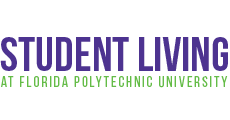 FAQ
Q: How do I pay for housing?

A: At the top of the page click "Portal." Log into the housing portal. From there you can pay by bank draft from either your Checking or Savings Account.
If you would like to pay by check:
Make checks payable to: VC FPU Housing
Mail to 4700 Research Way
Attn: Student Housing
Lakeland, FL 33805

Q: When is payment due?

A: Payment is due per the terms of the lease. Please refer to the lease for payment details.

Q: Can I use financial aid to pay for housing?
A: All questions about financial aid should be referred to the Office of Financial Aid.
Q: Where can I see a packing list?
A: Please email live@floridapolystudentliving.com and we would be happy to send you a packing list for your room. Please note that packing lists for the upcoming Fall Semester are not available until May.
Q: Can my student move in early?
A: Please All requests for early move-in must be submitted in writing to live@floridapolystudentliving.com
Q: Do you clean my suite?
A: No, we do not provide cleaning service for individual bathrooms or bedrooms/suites.
Q: Where does my student do laundry and is there an added cost?
A: Washers and dryers are available in every suite. Students do not pay the machines for laundry.
Q: Will someone show them how to do laundry?
A:

We suggest that parents give them a tutorial prior to dropping them off.
Q: Is the residence hall safe?
A: Safety in the halls is a team effort. The resident assistants and staff work hard to ensure that the building is secure. We work in conjunction with the university police and safety to patrol the halls regularly and be available should an emergency arrive. The other part of the team is your student. We can only do so much, and it is our expectation that students also help by locking their doors, not letting strangers into the building and by keeping an eye out for anything out of the ordinary.


Q: What appliances can I have?

A: Our general rule of thumb is anything with an open heating source is not allowed. If you can physically touch the element that gets hot then the answer is no. This includes: George Foreman-type grills, regular coffee makers, hot plates and toaster ovens.

Keurig type coffee makers, rice cookers, most modern crock pots, toasters with ceramic or hard plastic exteriors, induction cook tops and mini-fridges no larger than 2.7 cubic feet. If you have any doubt please give us a call at 863.874.8779 before purchasing.

Q: Are there things to do on campus? Will my student be bored?
A:

There is plenty going on around campus. A full calendar of events for the semester is provided at move-in. This is in addition to resident assistant events that are held throughout the semester. While we do not force the students to attend whether or not they are bored is entirely up to them.We encourage students to go out of their room and participate, but some encouragement from family would help! There is something going on most nights of the week.

Q: What size bed will my student have?
A: Students in single rooms will have full-size beds. Those students in doubles will have XL-Twin beds.

Q: Can all beds be bunked or un-bunked?
A: All XL_Twin beds come bunked in the rooms. The floor plans are intended to show both available set-ups. That being said all bunked beds can be un-bunked. We just ask that both your student and their roommate email us confirming this request.

Q: Where can I put in a maintenance request for my student?
A: The simple answer is you can't. We like to encourage students to hanlde situations on their own. Part of this is asking that students make maintenance requests. This has two benefits:

1. That students learn to live independently.

2. Students, having experienced the maintenance issue, can provide more detail to the staff when making requests.

Q: How can I know what is going on in the building?

A: There are two ways: 1. Ask your student! 2. If/When that fails email live@floridapolystudentliving.com and ask to be added to the parent email list.

Q: What if I can't get a hold of my student?

A: You may call us at 863.874.8779 and we will happily go to your student's room, knock on the door and ask that they contact mom/dad/grandpa/grandma/cousin Shirley or whoever! I guarantee you only have to do this once as no student enjoys being asked to call their relatives by a random person more than once.

Q: If I come to the building will you let me in my students room?
A:

No. Please be aware that safety is our chief concern for students. So we ask that parents/relatives/friends call their student and ask them to come down to the lobby, meet them and escort them in. While this can be inconvenient we feel it ensures that students are as safe as possible.