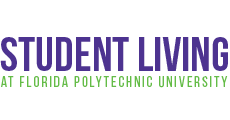 Testimonials

Alberto Pinero - Sophomore, Major: Electrical Engineering

Moving out of my parents' home after high school was a big milestone in my life. It was exciting because it was something completely different. I knew it would be somewhat challenging to get used to living on my own. However, upon moving in to the residence hall at Florida Polytechnic University I felt very accepted and secured. The dorms were really nice, and it was a pleasure to stay in them. I get along very well with my suite mate and we had a fantastic year living together in the dorms during the school's first year.

Gabie Martines. - Junior, Major: Mechanical Engineering

I've really liked living here in the residence hall for so many reasons. The convenience, social aspect and all of the amenities here are my main reasons for wanting to live here another year. Everything I need is less than a 5-minute walk away from the residence hall. I don't have to worry about being late to class or missing an event in the academic building. The dining facility is also rigth next door so I don't have to go too far for dinner. There are also so many programs and activities for the residents here going on every week. It makes it easy and fun to meet new people. The gym in the residence hall, the lounge area, study rooms, common kitchen, resident assistants on each floor, maintenance, accommodations and more are all available to us every day!

Craig Cartwright - Sophomore, Major: Mechanical Engineering

Florida Polytechnic Student Living is a luxury. Living on campus is a hassle free lifestyle that I have grown to love. The best thing from living on campus is being able to wake up 15 minutes before class and make it on time. Living off-campus would mean I have to deal with traffic and rushing around trying to make it to class. Also living on campus I get to meet new people and make new relationships that I can't really do if I rented an apartment by myself. A bonus to living on campus is all the great activities that are put together by the RA's and the staff, like game night where the students living on campus gather around and play video games and board games together. Or deck the halls; where the students will decorate their doors to be the theme of the holiday coming up. Those are just a few activities put on by the staff. These are the reasons that I love living on campus.